This is the first of a new format of articles in which I will be reviewing good art forms in pop culture including books, manga, movies, anime, music and gaming.
My goal with this series is to highlight excellent artists and benefit you readers with an amazing experience that you will cherish. None of these articles will contain spoilers that will ruin your experience of enjoying it. I will simply highlight the features that made it stand out and why it deserves your time and money. For the most part, these articles are not sponsored. If I am lucky enough to receive sponsors in the future, the article shall explicitly state that.
I discovered and watched this anime on Amazon Prime because:
A. I wanted to take advantage of the select few anime available on it before my subscription ended, and
B. It's about music! I watched the anime Nodame Cantabile a few years ago which similar topics: music students, comedy and slice of life.
I looked forward to start this anime because I wanted a burst of inspiration to improve my guitar practice. I seek art forms that glorify my interests which helps me redouble my efforts to get better at it. When I see a movie about lawyers, I am tempted to improve my knowledge of law and movies about musicians are great as they encourage me to practice guitar more and chase the glorified musician life.
Have you experienced this burst of inspiration from books/movies/anime/TV? Or am I the crazy one? Comment below!
Your Lie in April is about a teenage boy who gave up on piano since his mother died when he was young, therefore ruining what could have been an illustrious career as a musician. He meets a teenage girl violinist who plays in such a way that lifts his heart. She plays in a manner that is different from what the composer intended, yet she stands out because her performance is so captivating. The audience loves her, the judges not so much. She eventually persuades him to slowly pick himself up and get back into music.
Your Lie in April is a splendid inspirational tale that teaches us life lessons. It romanticizes the work of a musician. All the endless agonies of practicing are worth it when we stand facing a crowd and play for them. The silence belongs to us.
Your lie in April made me feel very strongly about the meaning of life and my role in this world. It inspired me to be a better musician, a better friend and taught me to cherish life.
The anime was equally as excellent as the manga because you get a better emotional picture from the voice actors and well, an anime about music is better if you can actually hear the music. I suspected that I wouldn't enjoy the manga since it would lack the music (this is why I enjoyed Nodame Cantabile anime but gave up on the manga in the first volume). But for Your lie in April, it didn't feel like music was such a big part of it. I would recommend the Anime for the music, voice acting and the beautiful visuals. The manga sheds a bit more light on the characters. I would recommend you to to check out both. The series is quite short- only 22 episodes and the manga has 11 volumes. Find the links to Your Lie in April at the end of this article.
Click on the 'follow' button on this page (it appears when scrolling up and down) and enter your email address to get updates on new articles.
Bookmark this site and tune in on Sundays at 11am and Wednesdays at 5pm for new articles!
Don't forget to follow my social accounts so you never miss a new article!

You can check out the anime by clicking on the first two images (which will take you to amazon prime video) and the manga by clicking on the third image (sponsored link to amazon)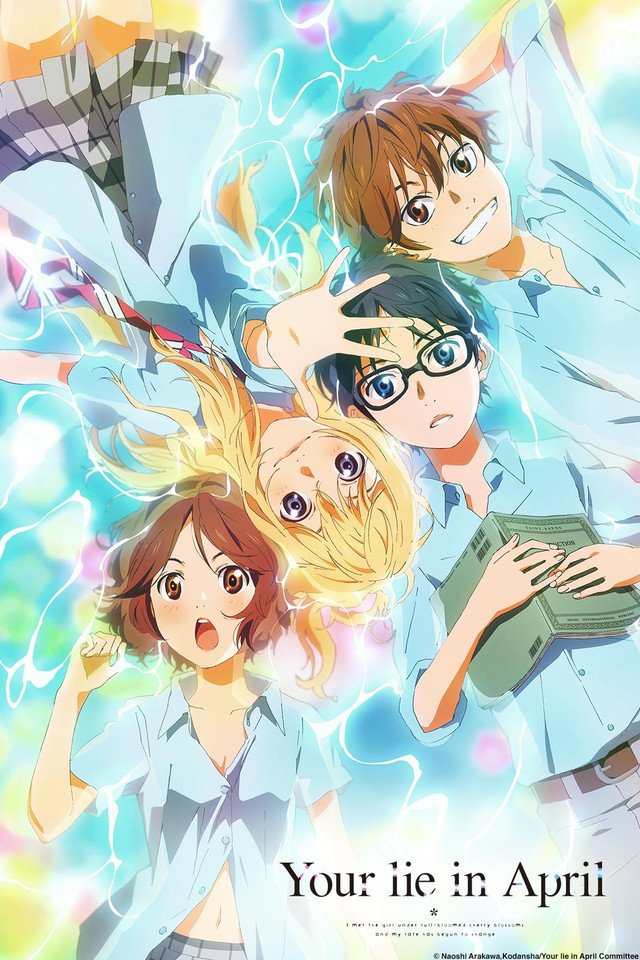 Check out the list of book recommendations on top of the home page titled "Best books". If you are on mobile devices, click on "Menu" on top of the home page and then "Best books".
Recent articles:
Best android apps or productivity
Be selfish and prioritize your happiness
Best free Android games to play right now!
Bored? Here's how to add spice to life!
Best free books to read right now!
Why motivation fails (and discipline wins)
How to get free music (without stealing)
Hate reading? I'll change your mind
Introvert or extrovert? You need to be both
Why 'Live in the moment' is bad advice
How to tame your smartphone addiction